Members, we are currently upgrading our ATMs, so the machines could possibly experience some downtime during this process. We apologize for any inconvenience. Thank you!
FRAUD ALERT - READ MORE HERE
What's new
Put Some Pep in Your Step with a Spring Loan

Our Spring Loan is a great option when you need some extra cash, for any reason!

Learn more about Spring Loans

NEW ATM LOCATION:

Mil-Way Federal Credit Union is proud to announce their newest 24- hour ATM location in the heart of the Bi-State Justice Building in Downtown Texarkana.

Traveling for Fall/Winter?




Read this important notice before using your debit card while on vacation.

Travel Fraud Info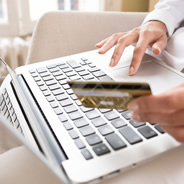 eService Resource Guide
Your credit union offers a variety of eServices that make it easy and convenient for you to do business with us! Please contact us if you need any additional assistance with any Mil-Way service.
SIGN-UP FOR BILL PAY
BILL PAY FAQs
BILL PAY DEMO
quick links



MIL-WAY NEWS
Follow us